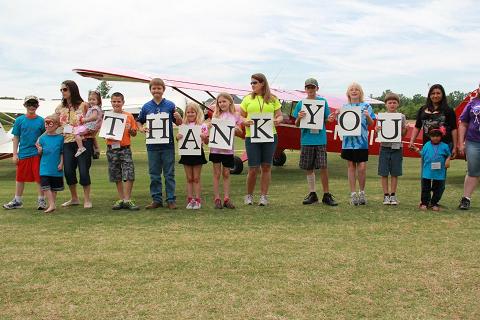 On Monday's "Talk of the Town" show, Henry Hinton interviewed Mike Roberson of Free To Be Me, a local organization whose mission is to provide children who have chronic and/or critical health issues with an afternoon of fun with their entire family.
Over a dozen pilots and airplanes will be on-hand at the Pitt-Greenville Airport this Saturday from 10 am to 2 pm. Children and their families will be able to enjoy flying around the area, events on the ground, food and other entertainment.
"We're moving the event to PGV this year because we out-grew the Aerodrome on County Home Road," said Mr. Robertson. "We're working with Rally's Army, Bo's Buddies and the Dream Factory."
Over 200 people have signed up for the event.
Henry Hinton: "Where do the pilots take the kids on the flight?"
Mike Robertson: "Pilots ask the children where they're from, and if they're from around here, they fly over the kids' homes, maybe their schools, the Washington waterfront, things like that."
Greenville Police Chief Hassan Aden has volunteered to provide police cars and K-9 units for the children. Corporate jets will be on-hand for touring, especially for those children who are reluctant to fly. East Coast Equipment is bringing some heavy equipment for children to climb on.
Watch the full interview below.
Source: http://greenvilleheadlines.com/news/local-pilots-entertain-children-airplane-rides/